The power of art came to me early.
I was a boy of 4 or 5 sitting at the breakfast table in my grandparents home looking at Gilbert Neumann's cowboys. Strange stirrings flowed thru my young soul.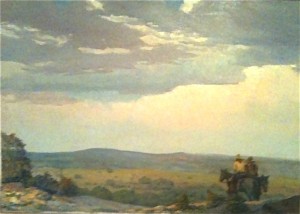 "SILENCE OF THE DAY" by Gilbert Neumann 1932
24″ x 34″  oil on canvas
I would live that painting years later on our ranch in the Hill Country.
It was at the ranch I decided to paint.
As a young boy I began to love the limestone bluffs, and the clear water that ran beneath them. I loved the sounds and smells of the river.
I wanted to know what lived in them, what flew over them, what grew on their banks, how  it looked in all seasons and how it looked in moonlight….